Zhejiang Hongsheng New Material Technology Group Co., Ltd
Zhejiang Hongsheng New Material Technology Group Co., Ltd. is located in Quzhou City, Zhejiang Province, with total assets of 1.8 billion yuan and more than 1500 employees, covering a total area of nearly 500000 square meters. It is a domestic high-tech group enterprise integrating the R & D, production, parts sales and ultra-low emission transformation of high-performance environmental protection dust removal filter materials, industrial dust removal design, industrial dust control, third-party operation management and service, and has the core competitiveness of the whole industrial chain integration.
? [five main businesses]
Sales of filter materials / filter bags / bag cages / other supporting products;
Ultra low emission transformation;
Third party operation and maintenance management;
Dust removal system solution service;
Desulfurization and denitration modular equipment.
? [serving 6 major industries]
The group closely focuses on the field of industrial smoke control and is committed to serving six major industries, including thermal power, thermal power, steel, cement, chemical industry and renewable energy (biomass power generation and waste incineration).
? [two production bases]
At present, the group has two major production bases: Zhejiang Quzhou new material production and scientific research base. The total investment of the project is 3.4 billion yuan and covers an area of 370000 square meters. When completed, it will become a large environmental protection science and Technology Industrial Park in China, as well as a whole industrial chain and intelligent base in the field of industrial environmental protection manufacturing in China. Liaoning inorganic fiber material R & D and production base, with an investment of 320 million yuan and an area of 120000 square meters, is a large inorganic fiber tank kiln factory in Northeast China, with an annual output of more than 6000 tons of finished yarn and more than 8.3 million meters of glass fiber filter material. The two bases provide a solid guarantee for accelerating the group's expansion of domestic and international markets.
衢州新材料生產科研基地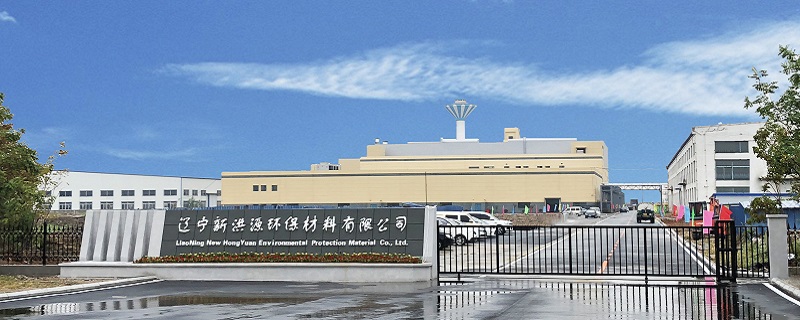 遼寧無機纖維材料研發和生產基地
? [R & D strength]
The group has applied for 233 patents related to filter materials and authorized 129 patents (including 33 invention patents). It is among the best in the industry, which verifies the strong R & D strength of the group. Nearly Qianping provincial technical testing center has been built, which is a testing center with a wide range of testing projects in the field of filter materials in the world, and can carry out more than 60 professional testing projects related to filtration and dust removal. The engineering technology research center under the group is the R & D unit of fiber-based filter bag in China, and is the first enterprise in the world with the ability to mass produce high silica (modified) membrane filter materials; Inorganic fiber acid resistant treatment technology is the world's leading and China's leading. In August 2019, Hongsheng environmental protection group was selected as "high performance environmental protection dedusting filter material engineering technology center".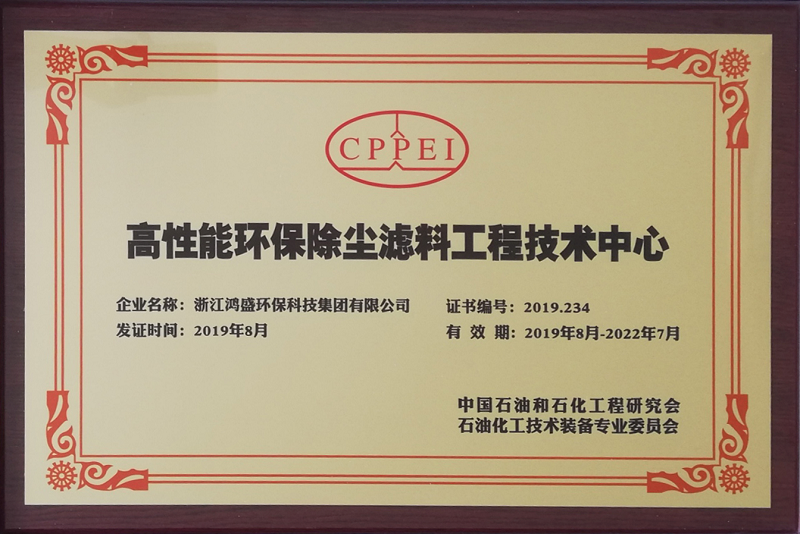 高性能環保除塵濾料工程技術中心
? [patented product - 5mg / Nm3 ultra low emission]
As the advocate of 5mg / Nm3 filter bag ultra clean emission and energy saving scheme, the company's patented product high silica (modified) membrane coated filter bag has been identified by two authoritative institutions of China Society of Environmental Sciences and China Electric Power Enterprise Federation, reaching the international leading level. The product can realize industrial flue gas filtration and ultra clean emission of 5mg / Nm3. It can withstand high temperature of 260 ℃, high strength and low elongation, flame retardant, long service life, easy ash removal and low running resistance, so it can save energy for customers. It is made of inorganic silica ore, which can be recycled and more environmentally friendly.
Hongchuang group has successfully developed a series of ultra-low emission membrane products with less than 10mg / nm in 2013, which has been verified by Shichuang group. It is another series of ultra-low emission membrane products that have been put into the market for a large number of times 3, Even < 5mg / nm can be achieved 3 Ultra low emission.
At present, more than 80 ultra-low emission reconstruction projects have been completed. It is an earlier enterprise providing ultra-low emission products and services among filter material enterprises in China, and it is also a manufacturer with more ultra-low emission application performance in the field.
? [manufacturing capacity and quality control]
At present, the group is an environmental protection enterprise with full industrial chain production in China. From wire drawing, spinning, weaving, film making, film covering, bag making, skeleton and accessories processing, technical guidance, third-party operation and management services, each link is equipped with sophisticated production equipment to ensure the processing capacity and quality control of products. Build an intelligent factory, lean layout of 121 production processes, and combine automation, informatization and lean, so as to implant intelligent manufacturing into each production link and process. Realize the full-automatic technical transformation from drawing, spinning, weaving, filter bag processing and other links, and replace the human eye with machine vision, which is more accurate. The powerful AGV scheduling system and MES system connect the whole production system from human, machine, material, method and ring, intelligent, transparent and lean, forming a production command center with Hongsheng characteristics. Focusing on quality control, the group has passed ISO9001 series quality management system certification, 14001 series environmental system certification and 18001 series occupational health and safety management system certification.
? [service capability]
The company has realized the specialization of five links: product design, raw material supply, customized production, installation and commissioning and operation management, so as to give better play to the advantages of the industrial chain. The products have the dual advantages of price and quality in the domestic competition in the same industry, and promise to provide cost-effective products and services on the premise of the same service life and the same emission standard.
High quality products not only need excellent technical support, but also need perfect production control and scientific sales concept guidance. In order to create "sincere products and satisfactory services", Hongsheng group has provided enthusiastic services to customers with the attitude of "being responsible for products" and "being responsible for customers" since its establishment. The group aims to accumulate 5000 customer resources in various industries, intensively cultivate and deepen service. In order to meet the needs of customers, a strong technical service team of 40 people is established, with regionalization and professionalization as the service characteristics, with the goal of becoming a "close housekeeper" high-quality five-star service.
? [business performance]
Hongsheng DCE dust housekeeper has focused on the research and service of industrial dust control for 19 years, and is mainly committed to the application of ultra-low emission in six fields, including coal-fired thermal power, cement building materials, steel smelting, petrochemical industry, waste incineration and biomass power generation, There are nearly 5000 customers in total (cooperation with group companies such as Datang, Guodian, Shenhua, Huadian, Huaneng, Jingneng, China building materials, conch, Jidong Jinyu, China Resources, Taiwan, Huaxin, Hongshi, Minmetals, Hebei Jianlong, Shagang, Hegang, Pangang, Anshan Iron and steel, Benxi Iron and steel, PetroChina, Sinopec, China coal, xinlianxin, black cat, best, Shanxi Coking, China energy conservation, Everbright International, etc.).
With the vision of "focusing on the value innovation of composite materials and continuously creating new value for users" and the mission of "leading the innovation and application of new composite materials and providing global users with high value-added overall system solutions", the group will always be based on the field of industrial smoke control, customer-centered, striver oriented, continuous learning and innovation. The group has continuously upgraded its products by continuously improving its product innovation and technology research capabilities, channel cooperation services and project mining capabilities, management services and collaborative development capabilities, and strives to make contributions to human environmental protection!